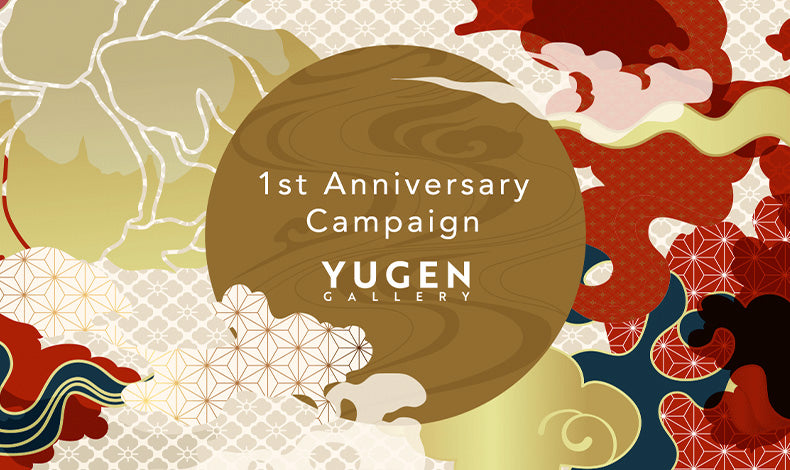 YUGEN Gallery 1st Anniversary Campaign | Cash back 10% of your purchase
2023.03.01(Wed) – 2023.03.31(Fri)

With gratitude for the patronage of collectors
YUGEN Gallery celebrated its first anniversary on February 26, 2023.
Over the past year, we have been able to bring to you the works of many contemporary artists through exhibitions at galleries in Shibuya, Tokyo and online sites. Thank you very much for visiting and purchasing.
To express our gratitude for your patronage, YUGEN Gallery will carry out a 10% cashback campaign for your purchase.
Please take this opportunity to purchase wonderful works by many artists.
▼ Campaign overview
If you purchase a campaign target work, we will cash back 10% of the purchase price.
▼ Campaign period
March 1, 2023 (Tue) - March 31, 2023 (Fri)
▼Campaign works
The works of the following artists are eligible for the campaign.
*In Japanese syllabary order
▼ Cash back flow
Purchase campaign target works

Completion of receipt of purchased works

Send a confirmation email of the cashback transfer account from the gallery

Transfer the cashback amount to your designated account
*You can use credit card, bank transfer, or installment payment (shopping credit) as the payment method at the time of purchase.
* YUGEN Gallery will bear the transfer fee when paying the cashback amount.
▼ Cash back example
If you purchase a work with a sales price of 330,000 yen (tax included)
→ Cash back amount: 33,000 yen