George Hayashi
George Hayashi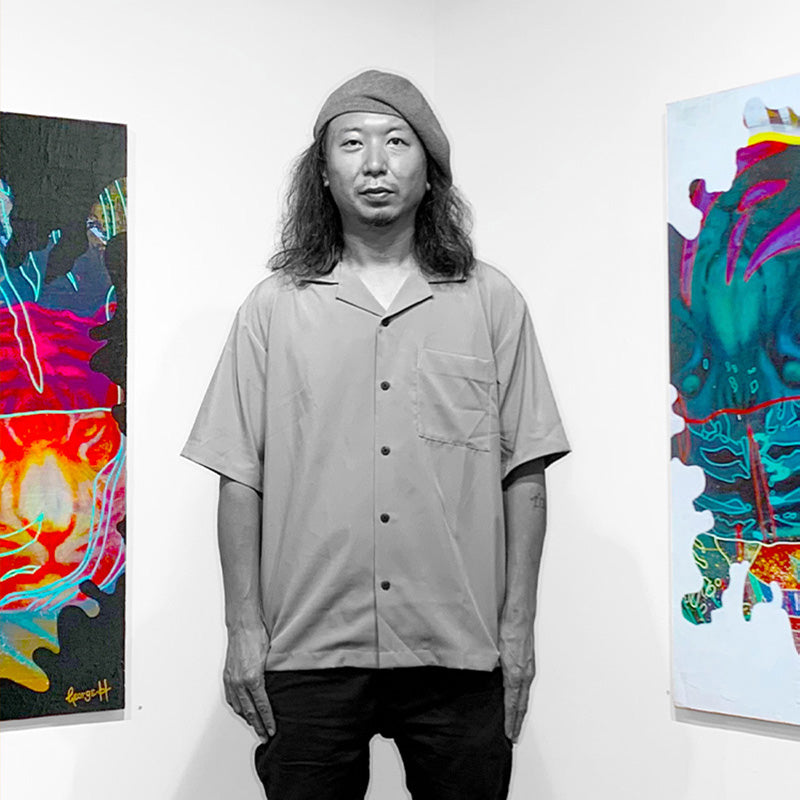 Born in Tokyo in 1978.
He has been designing apparel brands since he was a teenager, and has collaborated with many companies such as the drinking water brand Cheerio. Since 2010, he has been based in Shanghai and has held exhibitions at galleries and museums in China and abroad. He is engaged in various activities such as painting New Year's greetings for the Chinese government at the Japanese Consulate General, and painting murals for stores such as SG CLUB, Esujiro (all in Tokyo), and El Lequio (Okinawa) in Japan.
http://www.georarms.com
Inspired by the energy of nature, the instincts and way of life of wild animals, he works under the theme of "NOMAD HEART".
His style, which interweaves concrete representations such as lions and tigers with abstract expressions with powerful red coloration, is the most popular in adolescence, along with the "aesthetics of margins and omissions" of ink painting that he learned from his grandmother, a Japanese painter Sugiku Hayashi. A fusion of street culture that has been influenced by Hayashi's interpretation.
What is drawn is the quiet energy that animals and nature store up inside and the dynamic energy that they release to the outside.
With a Yin-Yang-Gogyo philosophical approach that the universe is created by the balance between the two, and that it is constantly changing, he appeals that all phenomena cannot be grasped from a one-sided perspective.
His work, which has a continental scale, gives rise to the image of nomads who freely migrate to places where they can live comfortably without being bound by anything.
EXHIBITIONS IN YUGEN GALLERY